Winter is always accompanied by a cuddling intimacy in the air. Now let your heart-throb's eyes feast on the 'sexy bedroom look' in your eyes. With just this one makeup trick, get ready to look absolutely gorgeous.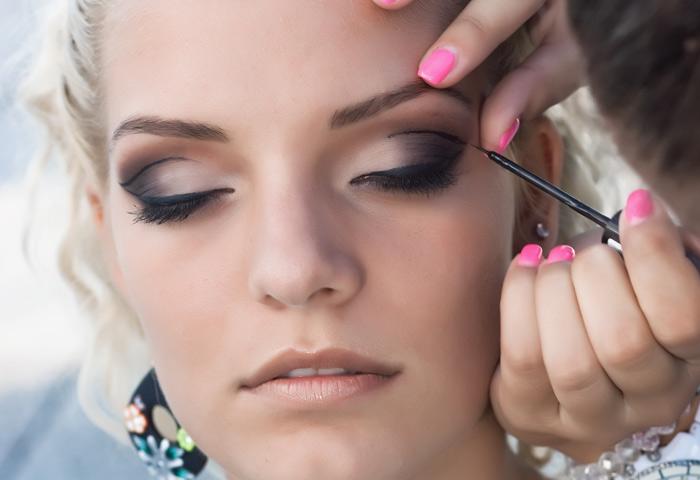 Image: Shutterstock
1. With a black eyeliner pencil, draw a reverse "C" starting from the middle of the upper eyelid to the middle of the upper lashline.
2. Choose a dark gray/brown eyeshadow and fill the area outside the "C". Care must be taken that it should not appear as a thick coat but should look smudged. It will be great if you could just daub the eyeshadow along the cat's eye shape along the tail line.
3. Slowly smudge the same color into a thin line, just below the lower waterline.
4. Apply a silver or white eyeshadow (metallic also works perfectly) on the inside of the "C" you drew i.e. on the upper eyelid. You can also apply a metallic eyeshadow instead. Also, apply the same just below where you have lightly smudged the darker color along the lower waterline.
5. With a dry brush, smoothly blend the lines where the light color meets the dark one.
6. Take a black gel liner and draw a thin, smooth line along the lower waterline of your eyes.
7. Apply mascara, and there you go!
Tip: The brow line and the inner corner of the eye are best accentuated when soft colors like silver or white are applied with a darker shade like charcoal gray or dark brown. So choose your colors wisely. Practice this technique till you master it.
Bring in the curiosity and excitement by widening your eyes when you look at him and see his gaze fixed on you. This is, perhaps, why sexy bedroom eyes have remained the all- time favorite of Angelina Jolie, Sofia Vergara, Scarlett Johansson and many more.